---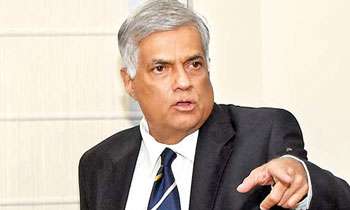 Prime Minister Ranil Wickremesinghe today alleged that the Opposition is trying to sabotage the government's development activities.
Prime Minister Wickremesinghe expressed this sentiment during the inauguration of Chenkaladi Badulla road development project in Padiyatalawa this morning.
"The country was facing bankruptcy by 2013. I was laughed at when I said there would be an early presidential election at that time. No fool will go for a national election before his term ends. However, this was done in 2014 by the former President. He did this because he could not face the debt problem. However, we had to increase VAT when we took over. We were criticized for it. We had two options. First to decide against increasing VAT and face a severe blow or to increase it and face criticism and yet stabilize the economy. We chose the second option and had managed to stabilize the economy" the Prime Minister said.
It has been possible to expedite development work. The Opposition has got worried about it. This is why they try to sabotage the government's work, he alleged
At the same time he said there are more problems to be resolved. "Local currency in many countries including, Turkey, Iran, and even India are getting devalued when the dollar is strengthened. Sri Lanka too should be prepared to face a similar problem. The Opposition is trying to sabotage things in such a situation," he added.
Minister of Highways Kabir Hashim said the Opposition is trying to sabotage the work of the government and hold protests when the development is getting on the track.
" We are planning to begin the work of Ratnapura Highway shortly. The government will spend US$ 20 million while the Saudi Arabian government will spend US$ 60 million for the project. Over 75 percent of the work in the Matara-Hambantota Highway is being completed and over 60 percent of the Central Highway is also completed. The Opposition had got disturbed as this work is progressing fast," the Minister said.
Minister of Primary Industries Daya Gamage stressed the need to build toilets to 2800 families who do not have such facilities. He said the government should and will focus on this issue as soon as possible. (Yohan Perera reporting from Padiyatalwa)