---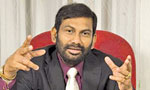 There was nothing wrong in increasing the allowances given to Members of Parliament, Minister of Primary Industries Daya Gamage has said.

Addressing a gathering in Ampara recently, the Minister said an MP currently gets an allowance of Rs. 50,000 and it was hardly sufficient to meet the expenses as an MP.

"I too get an allowance, even for fuel, but I have told Parliament authorities, to credit all my allowances to the account of Daya Sarana Trust. Even Ms. Anoma Gamage's allowances go for the trust through which we help needy children and engage in various other social and charity works," the Minister said.

"I can afford to live without an increment as I am wealthy, but not all MPs are wealthy and they need funds for their activities and they have to spend some money even to attend Parliament sessions," he added. (Yohan Perera)