---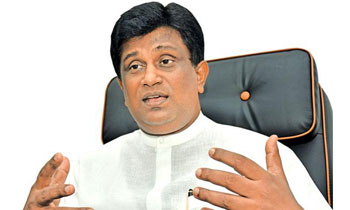 Responding to a statement made by former Minister Wijeyadasa Rajapakshe about his removal, Deputy Minister Ajith P. Perera said it was debatable as to if the former minister would have the temerity to remain in the post held by him if he had not been asked to resign.
In a press briefing the Power and Renewable Energy Deputy Minister said that in that case former Minister Rajapakshe could have resigned when the Cabinet, of which he was a part of, took a collective decision on the Hambantota Port.
"Or he could have resigned soon after a unanimous decision was passed in the United National Party (UNP) Working Committee," he said.
Deputy Minister said that he doesn't have any hard feeling with regards to Mr. Rajapakshe but what had happened to former minister was a result of him disregarding his responsibilities to see that justice was served, an election promise given to the people when the unity government was formed.
He also challenged Mr. Rajapakshe to come out with facts or evidence, if any, against any UNP member he was accusing of wrong-doings or keep mum.
While denying the charges of the former minister that he was removed because of the Central Bank Bond issue, the Deputy Minister said that the Presidential Commission of Inquiry (PCoI) will continue with its mandate and the former minister did not have any way to influence or delay the inquiry.
"Prime Minister Ranil Wickremesinghe is not involved in the Bond issue. It was proved that Mr. Wickremesinghe had no connection to the Bond scam by what is in the COPE Report," he said. (Thilanka Kanakarathna)