---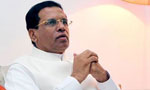 President Maithripala Sirisena has assured that no international trade agreements with any country would be finalised without upholding a national framework, even if the country was facing severe difficulties economically or politically.
The President had made this assurance on Monday evening at the meeting held at his Paget Road Residence with the members of the Government Medical Officers Association (GMOA).
Speaking at a media briefing yesterday, GMOA Spokesman Dr. Samantha Ananda said that the President was highly concerned regarding GMOA's proposal for formulating a National Policy on international trade agreements, especially on the proposed Indo-Lanka Economic and Technology Cooperative Agreement (ETCA).
President Sirisena has told the GMOA members that he would not give his approval to any international agreement if it harmed the sovereignty, economy and cultural identity of the country.
If there were any shortcomings in the ETCA, President said, he would make an effective intervention into the matter, Dr. Ananda said.
"We are satisfied with the President's approach to the issue. We hope that President will soon begin formulating the National Policy with regard to international agreements.
"International Trade Minister Malik Samarawickrama and Prime Minister's Economic Adviser Charitha Ratwatte were also in favour of our proposal on the national framework, prior to an international trading agreement. We presented the President a model Gazette notification on appointing a Commission to look into the matter," Dr. Ananda said.
When the issue relating to the South Asian Institute of Technology and Medicine (SAITM) in Malabe was taken up, the President who was once the Health Minister had said that his stance on the SAITM remained the same.
He reiterated that any medical education institute couldn't go ahead without obtaining the approval from the Sri Lanka Medical Council (SLMC), which is the State independent body of monitoring the medical services of the country, GMOA Editor Dr. Nalinda Herath said.
"He recalled his earlier statement, where he said that doctors cannot be produced just like flat breads (rotis). The SLMC approval is essential to function as a medical education institute in Sri Lanka. That is what he emphasized," Dr. Herath said.
It was apparent that the President was in favour of nationalising SAITM, Dr. Herath said.
Meanwhile, the GMOA said it would not stop their fight until SAITM was taken over by the Government because the current management of the SAITM had miserably failed to develop it and meet essential standards, despite continuous notices from the SLMC. (Piyumi Fonseka)