---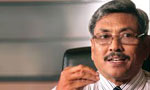 Former defence secretary Gotabaya Rajapaksa said yesterday that there was no reason for the Army or Military Intelligence to create a gang like 'Aava'-- though Health Minister and Cabinet Spokesman Rajitha Senaratne had alleged that Mr. Rajapaksa had created the gang.
Mr. Rajapaksa said Minister Senaratne had made a direct accusation against the army and military intelligence.
"There was no reason for the army or for army intelligence to create a gang like 'Aava'. Under previous governments, they used to disarm paramilitary organisations like the Eelam People's Democratic Party (EPDP) and the People's Liberation Organisation of Tamil Eelam (PLOTE). We didn't want to create new groups," he said.
"We should remember that such statements will only increase the allegations against the Sri Lanka Army. Now Tamil politicians are also trying to make allegations, taking advantage of those statements," he said.
"I'm not behind the 'Aava' group. I'm no longer in charge of the security forces and there are no intelligence units now. I have no authority to investigate such matters," he said.
"There is no need to refute Minister Senaratne, because the answers to such questions should be given by President Maithripala Sirisena, the present Defence Secretary and the Commanders of the Armed Forces," he said. (Chaturanga Pradeep and Indika Sri Aravinda)
Vieo by Indika Sri Aravinda and Buddhi