---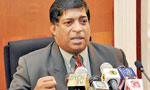 Finance Minister Ravi Karunanayake today said the prices of powdered milk would not be increased for any reason following the recent VAT increase imposed on imported powdered milk.
The VAT was imposed on imported powdered milk with effect from November 1 under the new VAT Amendment Act.
Issuing a statement, the minister said the powdered milk importers cannot increase prices without obtaining approval from the government as maximum prices have been already fixed for different varieties of powdered milk.
"It has been informed that the powdered milk importers have said that they want to discuss with the finance ministry either to increase the prices or to get VAT on powdered milk exempted. The government will look into providing any other alternative relief to importers after ascertaining whether there is any truth in the complaints they have made," he said.