---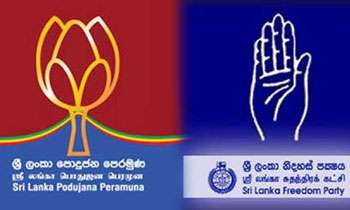 The Sri Lanka Podujana Peramuna (SLPP) today said it has not yet reached any agreement with the Sri Lanka Freedom Party (SLFP) to contest future elections together.
President Maithripala Sirisena has reportedly said that the SLFP has decided to contest future elections together with the SLPP.
However, when contacted, SLPP Secretary Sagara Kariyawasam said they have not yet made such as agreement with the SLFP.
"We are open for the formation of a political alliance but no agreement has been reached with anyone as of yet. Once an election is announced, we will start having talks with those interested in forming an alliance. However, whatever the alliance may be, it should be led by the SLPP and should contest under the symbol of lotus bud," he told the Daily Mirror.
He said their party was not afraid of contesting any election unlike the United National Party (UNP) or the Janatha Vimukthi Peramuna (JVP).
"It is absurd to note that the committee chaired by Prime Minister Ranil Wickremesinghe, which was appointed to review the delimitation report, has not met even once to discuss its agenda. This shows their interest in elections. We continue to press the Election Commission to get an election for the Provincial Councils," Mr. Kariyawasam said.
Meanwhile, he said they are optimistic of people electing the next President from the SLPP. "The next President will be elected from the SLPP and the next government too will be formed by the SLPP," he said.
Commenting on their political campaign, Mr.Kariyawasam said they would hold meetings covering 25,000 Grama Seva Divisions across the country in early January next year. (Lahiru Pothmulla)