---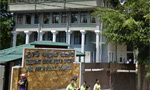 The controversial Development (Special Provisions) Bill, was rejected by a majority of members in the Uva Provincial Council today.
UPC Chairman A.M. Buddhadasa had informed the members that Uva Province Governor had sent the Development (Special Provisions) Bill to the Council to seek their opinion.
Council's Opposition Leader R.M. Ratnayake, Udara Soyza (UPFA), R.M. Jayawardane (JVP) Samantha Widyaratne (JVP), Upali Samaraweera (Agriculture Minister), Sudarshana Denipitiya expressed their views on the Bill.
Nine UPFA members, including two PC ministers, two members of the Ceylon Working Congress and two JVP members voted against the bill while nine UNP members voted in favour.
Uva Chief Minister Chamara Sampath Dasanayake abstained from voting.