---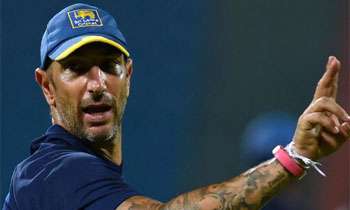 Nic Pothas, the National Fielding Coach of Sri Lanka Cricket (SLC) has resigned from his position with effect from April 13, the SLC said in a statement today.
In a letter addressed to the SLC, Nic Pothas described that this was the right time for him to move on to other opportunities which will allow him to spend time with his family.
"After two incredible years with Sri Lanka cricket, this is the right time for me to move on to other opportunities, which will allow me to spend quality time with my young family.
I would like to thank Sri Lanka Cricket for affording this special opportunity.
I would also like to thank the Board, my fellow coaches and all the players I have had the pleasure and privilege to work with, for all the support they have provided me. Finally, I must thank all the supporters who follow Sri Lanka so passionately, for all their support during my tenure.
It has been an honor and a privilege to be involved with Sri Lanka. It has given me the opportunity to learn and improve as a coach as well as to contribute to a very talented bunch of players. It will always hold a special place in my heart," Pothas said in the letter.