---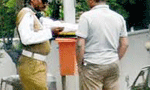 Inter Provincial Private Bus Association (IPPBA) President Sarath Vijitha Kumara said today that the Ministry of Transport and Civil Aviation Secretary Nihal Somaweera had informed of a decision to issue new spot fine sheets for drivers.
Discussions were held at the Presidential Secretariat this afternoon with the participation of Transport Ministry Secretary Nihal Somaweera, representatives of Sri Lanka Police, Motor Traffic Commissioner General A.H.K. Jagath Chandrasiri, Additional Secretary of the Finance Ministry and IPPBA representatives, All Island Private Bus Company Federation (AIPBCF), Southern Province Private Bus Owner's Association (SPPBOA) and the Three-wheeler Association.
The decision to impose a fine of Rs.25,000 was also taken to consideration, Sarath Vijitha Kumara said.
The old spot fine sheet, which will be replaced by the new sheet, will be active till the decision comes into effect, he said.
"The Transport Associations and Federations requested the Transport Ministry Secretary to issue the new spot fine sheet after the committee appointed by the President to inquire into the implementation of the fine. The committee will discuss their findings with us before taking a decision on implementing the fine. If the fine is going to be increased that should be increased by a reasonable percentage that people can afford," Kumara said. (Chaturanga Pradeep)