---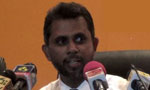 The new Customs Ordinance, if implemented, would reduce the powers of Customs Officers, allow more room for criminals to operate and bring the control of the entire Customs Department under a single individual, the Customs Trade Union Alliance charged today.
"Amending the 200-year-old Customs Ordinance and bringing in a new one would pave the way for those engaged in smuggling to escape from law enforcement officers, at the same time reducing the powers of Customs Officials," Deputy Superintendent of Customs Lal Weerakoon told the media today.
"The new Customs Ordinance was implemented with the support of three persons, who were paid handsomely by the Finance Ministry," he charged. "These individuals were initially paid about Rs.9 million by the ministry, while another monthly allowance, including transport, amounting to Rs.13.5 million, was also included in the package offered to them. Finance Minister Ravi Karunanayake should tell the truth to the people in this regard," Weerakoon said.
He said the proposed Customs Ordinance was only reformed for the protecting the culprits and to take action against the Customs officers and the final objective would be taking the whole Customs control in to someone's hand.
"Because of that as Customs Trade Union Alliance, we had taken a decision to stand against bringing the new Customs Ordinance. If anything needs to be amended in the Customs Ordinance that is presently in force, we are ready to give our ideas on that," Weerakoon said.
"During the examination of the new Customs Ordinance, it was clear that 68 per cent of the Ordinance had been taken from Customs Ordinance of other countries like Malaysia, Singapore, India, Canada and New Zealand. Then it had been changed according to the Sri Lanka Customs Ordinance," he said.
The present Customs Ordinance was introduced in 1861 and 50 amendments have been made since its enactment.
The Ministry earlier said that the aim of the Government was to amend the Customs Ordinance was to absorb the modern industrial trends in the global market and other relevant technologies to reap maximum benefits for the country and to enable the country to update the import mechanism and minimise trade irregularities.
"If this Ordinance was implemented, it would effect national security and the National Income of the country while also threaten the campaigns carried out against narcotics, biodiversity, and genetic resources of the country," he said. (Chaturanga Pradeep)