---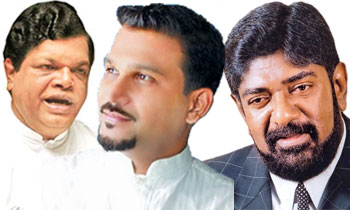 Joint opposition members including MPs Bandula Gunawardane, Keheliya Rambukwella and Tharaka Balasuriya today resigned from the Sub Committees attached to the Constitutional Assembly.
Mr. Gunawardane told a media briefing that they officially rejected the reports produced by the 6 Sub Committees and added that they had participated in this procedure with good intention.
"It has been proved that these Sub Committee reports would directly affect the unitary nature of the state and it would result in developing federalism and separatism in the country," he said.
He said the joint opposition would never associate itself in matters where the state's unitary nature is threatened and added that they intended to reveal these facts through debates in the House.
"We planned to resign from these Sub Committees after revelation of these facts to the people. Unfortunately, the government cancelled the debates on the matter in an undemocratic," he said.
He said they would however reveal those facts to the country and stand for the unitary nature of the country and added that the reason behind the joint opposition members to partake in these Sub Committees was to reveal the dark side of the matter.
"I was the Chairperson to the Sub Committee of state funds. There are many other joint opposition members in the remaining 5 Sub Committees. They will also resign from their membership in the coming days," he said. (Kalathma Jayawardhane)