---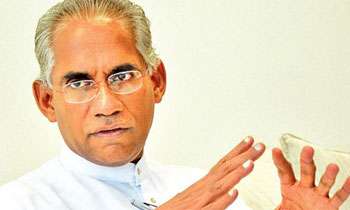 Most of the UNPers had insisted that the new Cabinet should be confined to 30 Ministers, UNP MP Eran Wickrmaratne said yesterday.
Mr Wickramaratne told journalists that many UNPers had insisted that new Cabinet should be confined only to 30 members to be in line with the wish of the people, that corruption and wastage of the Government should be stopped.
Referring to a document that is being circulated in social media claiming it to be a list of Cabinet Members, Mr Wickramaratne said many had prepared lists claiming them to be the new Cabinet.
"A new Cabinet would be appointed within the next 48 hours," he said yesterday.
Asked whether any SLFPers would be accommodated in the Cabinet, he said discussions were under way with some SLFPers but UNP had insisted that those who participated in the Constitutional coup should not be given Ministerial portfolios.
He said that talks were underway to bring in a Vote on Account (VoA) in a few days' time so that economic stability would be restored.
Referring to a question as to how President Maithripala Sirisena appointed UNP Leader Ranil Wickremesinghe as the Prime Minister after stating that he would not appoint Mr Wickremesinghe even if all 225 members of Parliament told him to do so, the UNP MP said President Sirisena had later decided to abide with the country's Constitution.
Mr Wickramaratne, who responded to a question as to whether it had been computed that country had lost Rs. 22 billion as a result of the political uncertainty, he said that losses were incurred as a result of the interest rate hike.(Yohan Perera).