---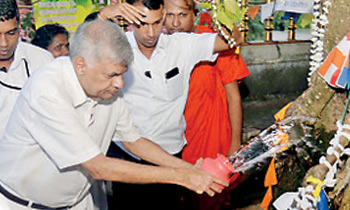 The allies of the national unity government should concentrate on the country's development instead of turning on one another, Prime Minister Ranil Wickremesinghe said yesterday.
He made such remarks during a religious ceremony held at Kande Vihare in Aluthgama. "There is no point in confrontational politics at the moment as what is needed at present is for everyone to focus on development" he said.
He said the Hambantota Port deal will bring many benefits to Sri Lanka. He said it would help reducing debt. "A total of Rs 47 billion was spent on the Hambantota Port. These funds could have been used to provide better health and education services to the people instead. It would have been possible to increase the allocation for education by 60 per cent if the country did not fall into debt as a result of the Hambantota Port project" he said.
The premier added that Sri Lanka would get annual revenue of Rs.1.1 billion as a result of the Hambantota Port agreement being signed. He said all the major towns would see massive development taking place in the coming years.(Yohan Perera)