---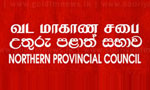 The controversial Development (Special Provisions) Bill was unanimously rejected by members in the Northern Provincial Council (NPC) today.
NPC member V. Jayathilake said they were informed by the NPC Chairperson V. K. Sivagnanam that the bill was submitted by the Governor of the Northern Province.
He said they have rejected the bill as it would scrap the powers of the provincial councils and added that it was unanimously rejected by all 25 members of the NPC without a vote.
Meanwhile, the bill was also rejected by a majority of members in the Uva Provincial Council on yesterday. (Romesh Madushanka)