---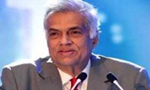 Prime Minister Ranil Wickremesinghe said yesterday that the recent floods had shown that the government should ensure that the Western Region, which is to be converted into a big city under the Megapolis plan, was a livable city
"Going by our vision, our polices, the Megapolis must not only be the largest city in the Indian Ocean region. It must rank high in regard to sustainable development. We want a livable city. In South Asia cities are no longer livable," he said, speaking at the "2030 Now" summit organised by the UNDP last evening.
He also focused on the manufacturing sector. He said, "What should our manufacturing industries be? Such industries should be in accord with our thinking. We must think of the wishes of the Sri Lankan people. They want a high income. This is why they are leaving the country. You have to look at wages and incomes. These are some of the issues we have to look into."
He said the government would have to think of the rural people as well: "You cannot forget the countryside. You cannot forget the rural economy. After all you have to feed people. There will be more mouths to feed in 2050 than you have today. One has to focus on sustainable agriculture," he said.
"What is Indian Ocean? It has always been the richest trading region in the world. It is going to become one of the fastest growing regions in the world in the next three to four decades -- that is unavoidable. South Asia and South East Asia (which borders the Bay of Bengal) will have a population of well over two billion. If you take the whole Indian Ocean region it will contain almost three and a half billion people. Countries which are fast growing will soon become middle income countries," he said
Referring to other future plans, he said the country would not be affected as much as anticipated. "Despite the global downturn we will not face a serious crisis because of the agreement we have with the IMF (the extended $ 2.2 billion facility), the SWOP facility with India involving a billion dollars, international sovereign bond markets and discussions with China to put Chinese equity into our markets," he said
"By putting Chinese equity into our markets we could repay about $3 billion of Chinese credit. We would like to give first choice to Chinese companies in the equity market. At least we can breathe now. This is something we could not do in 2015," he said.(Yohan Perera)