---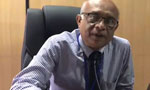 National Transport Medical Institute (NTMI) Chairman Rohana Pushpakumara said yesterday that there had been a drastic increase in the number of persons reporting to the institute to obtain the medical reports required for driving licences during the last few days.
He said that earlier only about 350 people a day arrived at the Nugegoda Head Office to obtain medical reports, whereas, now, about 700 people were arriving at the institute every day.
Mr. Pushpakumara said the number of people arriving at the other 25 regional centres, including Kandy, Gampaha and Werahera, had also doubled.
He said this may be due to several reasons, such as rumours that the licence fees would be increased and the minimum age of three-wheeler drivers would be increased to 25.
He said another probable reason was that most people who had driven without valid licences earlier had decided to obtain licences due to the Budget proposal to increase the penalty for driving without a valid licence to Rs. 25,000. He said this was a good trend.
He said they were making every effort to cater to the needs of the people seeking their service. (Bimal Shyaman)
Video by Bimal Shaman Jayasinghe