---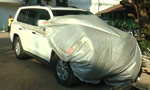 A police probe is on concerning a minister's son who had allegedly knocked down a motorcyclist with his Prado, causing the latter to break his leg and a rib at Park Street Junction on Anagarika Dharmapala Mawatha early this morning (18).
In a bid to hush-up the accident, the driver of the vehicle had offered Rs.350,000 to the victim, without informing the police, soon after the accident.
According to the police, the minister's son had reportedly driven the white Prado V8 at high speed from the Town Hall junction along Dharmapala Mawatha and taken a sharp turn into Park Street.
The motorcyclist who had come from Kollupitiya and was heading towards the Town Hall had been struck from the side by the turning Prado. The motorcycle bearing the registration number BEC 6735 had been extensively damaged.
The 21-year-old rider identified as Mohamed Risan Riyaf of Keselwatta had been rushed to the National Hospital, Colombo in a critical condition. He is being treated for a broken leg and rib and injuries on his face.
The rider was a part of a group of people who had visited the Viharamahadevi Park on Saturday night and was reportedly riding the motorcycle up and down Dharmapala Mawatha.
The accident had occurred at around 1.30 am when the minister's son was reportedly returning from a nightclub near the Town Hall with some friends. As soon as the accident occurred the two parties had come to a settlement and agreed not to not to go to the police.
The minister's son had immediately paid Rs.100,000 to the owner of the motorbike who was present at the scene and promised to pay him Rs.250,000 more, and left his Australian Driver's Licence with the latter as security.
The driver and passengers of the Prado had left soon after; leaving the Prado and the keys at the scene. When a mobile motorcycle patrol of Cinnamon Gardens Police arrived there at around 2.20 am only the motorcyclist's friends had been present.
Police had taken both vehicles into custody and recorded statements from the motorcyclist's friends. Police had later traced the Prado's owner.
A man claiming to be the driver of the Prado had surrendered to the Cinnamon Gardens Police at around 11.00 am yesterday and given a statement.
However, the suspect had also surrendered to the police at around 3.00 pm and reportedly said in a statement that he had had to leave the scene in order to take the victim to hospital.
He had reportedly told the police that his Sri Lankan Driver's Licence was not with him when he surrendered to the police.
Police did not rule out the possibility that the minister's son had been under the influence of liquor at the time of the accident. But this could not be verified as he had not surrendered to the police until much later in the day.(Kurulu Koojana Kariyakarawana)
Video by Buddhi
Video by Courts Prasanna