---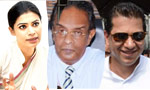 Prison Reforms, Resettlement and Hindu Religious Affairs Minister D.M. Swaminathan has called for an explanation from the prisons authorities regarding MP Hirunika Premachandra's allegations that former MP Duminda Silva, who is on death row had been provided with special facilities.
She alleged in Parliament on Tuesday that some influential prisoners including Mr. Silva were enjoying special privileges, while the poor prisoners were neglected.
"Mr. Silva's medical report says he is suffering from a chronic headache, loss of consciousness, loss of memory and dizziness but all his relatives visited him at the Prisons hospital for his birthday on December 3 and threw a party," Ms. Premachandra said.
Ministry sources said the Minister had asked the Welikada Prison authorities to submit a report after an inquiry into the matter.
The minister said action would be taken against the prison authorities who had allowed such incidents to take place as claimed by her. (Darshana Sanjeewa)