---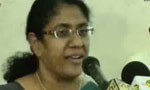 While rejecting the complaint made by the joint opposition over a financial misappropriation of a whopping Rs.1, 500 million, Foreign Employment Minister Thalatha Atukorale today referred a letter to the Bribery Commission (BC) requesting an immediate investigation on the complaint.
Addressing a media briefing, Mrs. Atukorale said she had directed a letter to the BC Director General requesting necessary action on the complaint made against her, proceeded by an immediate investigation.
"A group of politicians, claimed to be the 'Joint Opposition,' has filed a complaint against me stating that I have caused the State a loss of Rs.1, 500 million by the mandatory insurance scheme of the Sri Lanka Bureau of Foreign Employment (SLBFE) for all Sri Lankan migrant workers since August 2015," she said.
Mrs. Atukorale stated that the allegations in the complaint lodged by the joint opposition were completely false and baseless, and added that she was ready to accept any sort of punishment for these kind of baseless allegations if she was proven guilty.
On a different note, she said a least amount of funds from the Budget were allocated for the functioning of the SLBFE.
"It had never operated with State funds," she added. (Kalathma Jayawardhane)
Video by Buddhi