---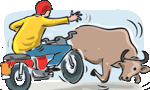 A man who was seriously injured in an accident at Unnapulavu in Mullaithivu, on Wednesday and admitted to the Jaffna Teaching Hospital, succumbed to his injuries on Saturday, Police said.
The deceased was Somasunderam Thusyatharan, (31), a father of two from Kallapadu.
was on his way home on his motorcycle when his vehicle collided with a cow causing serious injuries to him.
He was admitted to the Mancholai Hospital, from where he was transferred to the Jaffna Teaching hospital,where he succumbed to his injuries.