---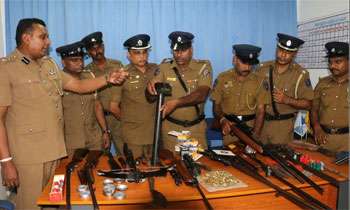 The police recovered 13 automatic weapons, manufactured in Pakistan and used for VIP security, along with 1500 ammunitions from a mansion like residence of a gem businessman in Beruwala today.
The law enforcement unit of the Matugama Police Division had found several .22 millimetre weapons and one MP5K gun (a sophisticated weapon used by VIP bodyguards) along with several 12 bore shotguns.
In addition, the police also took into custody three machetes and a dagger along several telescopes used to practice hitting targets.
It all began when the police stopped and searched a luxury vehicle that was transporting sambur meat and two persons were arrested. Police discovered several weapons used to hunt wild animals inside the vehicle. This arrest was made in the Lathpadura area by police acting on a tip-off received by police constable 44817 Gunawardane.
When the two suspects were questioned it transpired that one of them was a leading gem merchant. Afterwards, when his house was searched police found a haul of weapons.
The suspect is presently being questioned by police to ascertain whether he has any links to the underworld and how he came to possess these weapons..(Darshana Sanjeewa)