---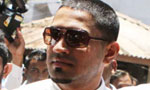 Court today released the CCTV footage which was in its custody to the Cinnamon Gardens Police so that it could conduct further investigations into the case where former minister Mervyn Silva's son Malaka was allegedly attacked at the Odel car park on July 29, 2013.

The case was taken up for inquiry by Colombo Chief Magistrate Gihan Pilapitiya.

Malaka was reported to have been hospitalized after 12 men wearing clothes similar to those worn by the security forces had assaulted him and stabbed him with a broken bottle while at the car park.

The Cinnamon Gardens Police filed action in the Colombo Chief Magistrate's Court on February 24, 2015.

The number plate of one of the jeep was reported to have been WP AI--5133. (TFT)