---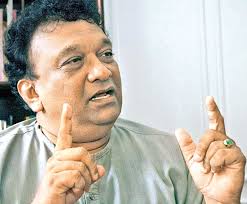 The reappointment of Arjuna Mahendran as the Governor of Central Bank after his term ends on June 30 this year will not be an issue as the Supreme Courts has acquitted him of all charges, Leader of the House Lakshman Kiriella said yesterday.
The Minister told a media briefing that his personal opinion was that Mr. Mahendran should be re-appointed to the post.
"The Supreme Courts has given Mr Mahendran a good character certificate by acquitting him of all charges and therefore why make a fuss over it," he questioned.
"Those who are making allegations against him are lucky as no one will opt to file defamation cases as in Sri Lanka as such it takes a long time to be completed. But if such allegations are made in a country such as the US it would be a different story as a case is completed within a year and some media institutions also should keep this in mind+," the Minister added.
He said those MPs who want Mr Mahendran out had not read the Supreme Court judgment.
Responding to a question raised by the journalists as to why a special select committee is not appointed to probe into the controversial bond issue regarding which allegations are made against the central bank chief the Minister said the committee on public enterprises (COPE) is currently carrying out an investigation on it. "There is no need for another select committee as COPE is probing the bond issue," he said. (Yohan Perera)