---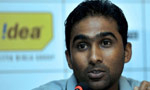 Former Sri Lankan cricket captain, Mahela Jayawardene had been added to International Cricket Council's (ICC) Cricket Committee along with former Indian captain Rahul Dravid.
Dravid and Jayawardene were long-serving mainstays of India and Sri Lanka respectively and have gained a wealth of experience in all forms of the game, Cricbuzz said.
The duo have been appointed on a three-year term and are set to attend their first meeting at Lord's on 31 May and 1 June, ahead of ICC's Annual Conference that is scheduled to be held in Edinburgh, Scotland.
Dravid and former Chief Executive Officer (CEO) of Federation of International Cricketers' Association (FICA), Tim May, were selected by the present Test captains as current players' representatives in place of Kumar Sangakkara and Laxman Sivaramakrishnan, who both have completed their three-year tenures.
On the other hand, Jayawardene replaces Mark Taylor as past players' representative. Incidentally, Taylor, too, has completed his three-year term. Richard Kettleborough has been nominated as umpires' representative and takes over from the just retired Steve Davis.
The ICC Cricket Committee will be headed by former Indian legspinner, Anil Kumble until 2018. Kumble became the Chairman in 2012 and was re-elected this year.
ICC General Manager of Cricket, Geoff Allardice, said: "I want to thank Mark Taylor, Kumar Sangakkara, Laxman Sivaramakrishnan and Steve Davis for their significant contribution to this committee.
"I also welcome Rahul Dravid, Mahela Jayawardene, Tim May and Richard Kettleborough, and I am confident that these highly credentialed individuals will carry on the good work of their predecessors to make the sport even more competitive and attractive," he added.
The ICC Cricket Committee is a representative of all stakeholders in the game, including players, umpires and the media. It is authorised to make suggestions on matters related to cricket to the Chief Executives Committee (CEC).