---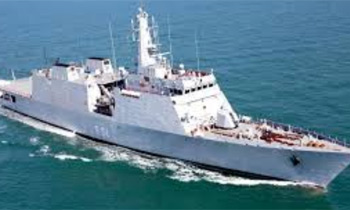 The Sri Lankan Navy is on the verge of commissioning its largest warship, which has been built in India under a Rs 1,000-crore contract inked four years ago for two such vessels.
The manufacturer, state-owned Goa Shipyard Limited (GSL), will deliver the first offshore patrol vessel to the Sri Lankan Navy at a ceremony at the yard on July 22.
The 105-metre long warship, with a displacement of around 2,400 tonnes, is expected to be commissioned into the Sri Lankan Navy on August 2.
"It will be the largest warship to be operated by the Sri Lankan Navy. It is also the largest warship to be exported by an Indian shipyard. The step will deepen naval ties between the two countries," Rear Admiral Shekhar Mital told HT from Goa.
The shipyard has beaten the deadline for delivering the warship because of which the Sri Lankan Navy will induct the vessel almost three months ahead of the scheduled delivery. Sri Lanka will get the second warship in February 2018, again three months ahead of schedule.
Such patrol vessels carry out several roles including fleet support operations, maritime surveillance, defence of offshore installations and escorting high value ships.
Capable of reaching a top speed of 25 knots, the vessels have been designed to accommodate a helicopter on their flight decks.
The shipyard will also deliver a fast patrol vessel to Mauritius on August 9, the 14th such vessel to be delivered to that country during the last two years.(Hindustan Times)