---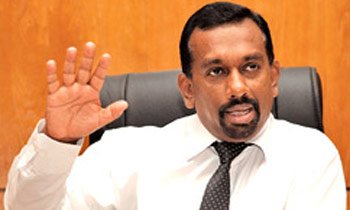 Former President Mahinda Rajapaksa was still a patron and a member of the Sri Lanka Freedom Party (SLFP) and therefore, there was no obstacle for him to be appointed as the Opposition Leader, MP Mahindananda Aluthgamage said today.
He said all SLFP MP's, who backed SLPP including Mr Rajapaksa continued to pay their membership fee to the SLFP and that they had not withdrawn from that party. "Neither have we withdrawn from the SLFP nor were we expelled from it. All of us, including Mr Rajapaksa, still pay the membership fee to the SLFP.
Last month Rs.3,000 had been deducted from Mr Rajapaksa's salary to the account of SLFP as membership fees," he told a news briefing. Mr Aluthgamage said MP's R. Sampanthan, Lakshman Kiriella and Rauff Hakeem had opposed the appointment of Mr Rajapaksa as the Opposition Leader because Mr Rajapaksa would thwart UNP's attempts of bringing in acts and laws which were detrimental to the country.
When questioned about Mr Rajapaksa obtaining the membership of the Sri Lanka Podujana Peramuna (SLPP) on November 11 at his Wijerama Residence at a grand function, MP Aluthgamage said a statement would be issued by SLPP General Secretary in this regard.
"All I can say is that Mr Rajapaksa is still a member of the SLFP. SLPP General Secretary will comment whether Mr Rajapaksa had obtained SLPP membership or not. Yes, there were media reports which said Mr Rajapaksa obtained SLPP membership back then but then again the reports can be interpreted in many ways," he said.
When asked about the tweets by MP Namal Rajapaksa on November 10 and 11 which said he was joining the SLPP effective immediately and also included a photo which showed an SLPP membership card, the MP said he saw the tweets but it was up to the SLPP General Secretary to make a comment.
Meanwhile, MP John Seneviratne said Mr Rajapaksa was a legal member of the SLFP though he might have accepted the membership of the SLPP. (Lahiru Pothmulla)
Video by Sanjeewa