---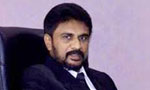 Fifty Eight MPs are to hand over petitions to the President and the Prime Minister asking them to remove Nimal Bopage, the Secretary to the Ministry of Parliamentary Reforms and Mass Media from his post with immediate effect.
This development comes after Mr. Bopage said he would not sign the agreement to provide 58 MPs with new vehicles.
A government source said the MPs were of the opinion that Mr. Bopage should be removed from his post as he had worked against the Cabinet which had approved the proposal to provide the vehicles.
"The MPs are of the opinion that that Mr. Bopage should not be kept in his post any longer as he has challenged the government several times," the source said.
The MPs have asked why the secretary is preventing the acquisition of the vehicles when machinery is being put in place under which the government will become the owner of the vehicles. (Yohan Perera)