---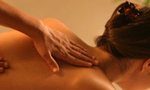 The Health Ministry was in the process of introducing legislation to regulate and monitor Massage Clinics and Health Clubs in order to prevent nefarious activities allegedly carried out at these locations, Director General, Health Services Dr. Palitha Mahipala said.
"We are aware of certain abominable acts taking place at these parlours putting the health of the public at risk and that is why the Health Ministry decided to monitor and regulate these places," Dr. Mahipala said.
Addressing the media at the seminar for journalists at the Health Education Bureau (HEB) titled 'AIDS – myths and beleaves' he added that the proposed Act was being drafted by the Legal Draftsman right now.
Responding to a journalist at the seminar Dr. Mahipala said the Health Ministry receives public complaints regularly on illegal acts taking place at massage clinics.
The police keeps a watchful eye on these places and the raids conducted on them prove that a majority of massage clinics are illegal sex clubs or houses of ill fame. Many of these massage clinics are manned by Thai, Ukraine and Indonesian sex workers which put the health of Sri Lankans at risk.
Dr. Mahipala said the monitoring and regulating of massage clinics was timely as the spread of sexually transmitted diseases and HIV/AIDS in particular are on the rise.(Sandun A Jayasekera)