---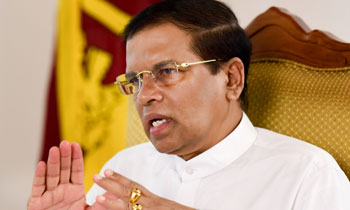 President Maithripala Sirisena said a Gazette notification would be issued under existing laws to give all private lands, which were not cultivated to those who were willing to cultivate them.
He said all Government lands also would be cultivated under this programme.
He said that decision would be taken under the Vaga Sangramaya Programme to be launched next month to increase the food production by bringing the drought affected lands to the normal conditions.
The President was speaking at the occasion to vest the new Pradeshiya Sabha building in Dimbulagala on Saturday.
He said the Government was taking all such decisions to save the people from poverty, strengthen the national economy and to build a prosperous country for future generations.
He said the Government was carrying out a balanced development porgramme.
"The plan of the current Government includes a development which will be shared among all," he said.
"I don't have a policy to inquire about the political party of the people when they seek solutions for the problems. I will provide solutions for the problems when fulfilling the people's requirements", the President stated.
He said the people of Polonnaruwa voted for him without any division of the political parties or colours. He added he would fairly provide the opportunities of the development to all, without any political divisions.
"The responsibility of the current Government is not to pay attention on the undue allegations and criticisms of the political rivals in this democracy ensured by the government, but to fulfill our responsibility", he emphasised.
The Pradeshiya Sabha building which with all amenities has been built at a cost of Rs. 7 mn.
The President who arrived in the Pradeshiya Sabha premises engaged in religious activities in the Buddha Mandiraya there.
He then unveiled the plaque and vested the building with public.
He also planted a Na sapling in the Pradeshiya Sabha premises.
Dimbulagama Aranya Senasanadhipathi Ven. Villane Siriyalankara Thera and Maha Sangha, State Minister Vasantha Aluwihare, Chief Minister of North Central Province Peshala Jayarathne, member of the North Central Provincial Council Jayantha Marasinghe, members of Provincial Council N. A. Sampath and H. M. Anzar also participated.