---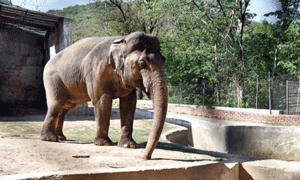 Now that winter has set in, the management of the Marghazar Zoo is worried about the fate of Kaavan, the lone elephant, who requires special arrangements during the winter months. Kaavan belongs to Sri Lanka, where the temperature does not drop below zero degrees Celsius.
A letter has been moved to the Capital Development Authority (CDA) to hand over the services of the elephant's caretaker, currently working in the human resources department, to someone else, to ensure that the elephant remains safe and sound during the winter.
CDA Member Administration Mohammad Suleyman Khan Warraich told Dawn that because of the current caretaker's behaviour, he had been trying to hand over the elephant to the Lahore zoo.
Kaavan's partner, an elephant named Saheli, died in April 2012, and Kaavan has remained in the national and international news since due to a lack of facilities for him.
According to a letter written by Zoo Director Mohammad Irshad, available with Dawn, CDA's management have been informed that although several zoos have been contacted for a qualified and experienced caretaker who can handle the aggressive male elephant, they have been unable to find one. The authority was also told that efforts are underway to hire an experienced caretaker on a contractual basis, to end the monopoly of the current caretaker.
"As the winter season has started and we must make the arrangements to protect the elephant from severe cold weather as per prevailing Standard Operating Procedure. If agreed, we may therefore transfer back Mr Muhammad Bilal, head Mahawat to Zoo and a separate case be initiated for the engagement of new Mohawat on contract basis as per availability," the letter states.
A zoo official who was not authorised to speak on the record said problems were exacerbated because of the availability of the caretaker.
He added: "Each year a proper fencing and arrangement is done to keep the animal safe from the cold, which could not be done this year. Moreover, there is no proper arrangement to clean areas, as it is difficult to control the animal. We fear the animal will fall sick and meet the fate of the female elephant."
Mr Warraich of the CDA said there were two brothers who did not train Kaavan properly, because of which it was decided to send one of them to the human resource department.
"I went to the zoo with my family and they demanded money from me. When I informed them that I am the member administration, the mahawat said he only takes money if someone willingly gives it to him," he said.
"I am aware that problems for the animals will increase in the winter, so I have been making an effort to send Kaavan to the Lahore zoo. Once the arrangements are completed for the animal in Islamabad, the elephant will be brought back."
In response to a question, Mr Warraich said if the Lahore zoo refuses to accept Kaavan, he will look for other options to ensure the elephant is provided facilities. (dawn)