---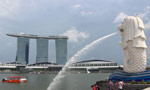 A Sri Lankan national had posed as a Briton and produced a forged India passport to enter the departure gate-hold room for a departing flight to New Zealand, a Singaporean court heard.
According to Strait Times, the man and the Briton he was posing as - both unemployed - were each jailed 12 months for their respective offences on Tuesday.
Vigneshwararaja Kajanan, 20, admitted to deceiving a SATS customer service officer into believing that he was Mark John by producing a forged India passport and a Singapore Airlines (SIA) boarding pass bearing Mark's name at the Terminal 3 departure gate-hold room on Sept 8. He also admitted to having the forged India passport.
Mark pleaded guilty to one count of intentionally aiding Vignesh to cheat by personation. The 45-year-old Briton had passed an SIA boarding pass for the Sri Lankan to deceive the SATS officer into allowing him to enter the gate hold room.
Deputy Public Prosecutor Jordon Li said that Vignesh wanted to migrate to New Zealand and sought the help of a man called Jogarajah. Jogarajah asked him for his particulars and copies of his photographs, and told him to apply for a Sri Lanka passport.
On Sept 2, Jogarajah handed Vignesh a forged India passport bearing the name of Mark John with Vignesh's photograph on it. He told him to use the passport to enter New Zealand.
Jogarajah also handed him an air ticket to depart for Singapore on Sept 4, and Vignesh flew to Singapore on that day. Three days later, Jogarajah instructed him to check in on Sept 8 for a flight to Colombo, scheduled to leave on Sept 9.
Vignesh complied and was issued a boarding pass at the airport. He was instructed to go to the men's toilet at Crowne Plaza Hotel at Terminal 3 to meet "Mark" to collect a boarding pass for a flight to Auckland, New Zealand.
He went to the toilet and met Mark who had placed a boarding pass in the sink. Vignesh picked up the SIA flight boarding pass and placed US$400 in the sink. Mark took the money and both left.
Vignesh immediately went to the immigration counter, using his Sri Lanka passport and the boarding pass for Colombo.
He later entered the gate-hold room for the Auckland flight after producing the forged India passport. He was then arrested by Immigration and Checkpoints Authority officers.
The court heard that Mark was in Cambodia in August when he received a call from Raj to fly to Singapore to hand over a boarding pass to a male subject. Mark agreed and Raj transferred US$200 to him via Western Union.
Mark was arrested at Harbour Front Terminal on Sept 9 when he tried to leave for Batam, Indonesia.
Vignesh and Mark could each have been jailed for up to five years and/or fined for cheating by personation. The Passports Act offence is punishable with a fine of up to $10,000 and/or a jail term of up to 10 years.