---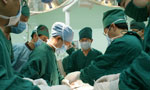 A Sri Lankan girl, who had suffered severe burns, had reconstructive burn surgery in South Korea.
Rochelle, the 13-year-old girl from Colombo had been set on fire by her father, a drug addict, in a fit of rage when she was a baby.
The scars all over her body had hardened as she grew older preventing her mouth, fingers and arms from working properly.
The Korea Food for the Hungry International (KFHI), which provides both domestic and international medical services, decided to sponsor half of the medical expenses while the remainder was covered by the Hanyang University Hospital. The surgery cost approximately Rs. 4 million.
Rochelle will come back to Sri Lanka on April 24.