---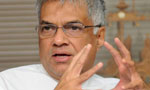 There might be fundamental changes to economy, when the South is industrialised, Prime Minister Ranil Wickremesinghe said on Saturday.
The Prime Minister made this remark at the Annual General Meeting of the Sri Lanka Tea Factory Owners Association over the weekend.
"When the Mattala Airport development plans get going, some may let off tea and move to other crops. Therefore there may be fundamental changes due to the industrialising of the South.
He said the government would have to look at the Tea Board, the Tea Research Institute and Tea Small Holders.
"The present structure is inefficient. We have to bring the industry back into it. How do we train planters? There is no college to train them, no diplomas. Tea must become an agribusiness for it to survive. Let's look at the radical changes once the budget is produced. In the short term you can expand the market but remember the long term measures should also come into focus," he said.
Going back to the topic of changes that might come up as a result of Southern Region Development he said there would be a migration of labour, especially towards Hambantota.
He said there was going to be a high competition for labour in all parts of the country.
"When the Chinese and the Government implement the new public-private agreements for airport and the port, they are planning to start a large number of industrial estates on 15,000 acres.
"Other types of industries will also come in as a result other than tea. We will promote high value tourism in the South. South will be connected to Mattala and the Katunayake Airports.
"This means there is going to be a migration of labour. Tea smallholders and plantations will have to compete. Those who are working in the plantations may move down to Hambantota from Badulla. Smallholders may think it is better to go and work there and abandon plantations. How are you going to work with this cost factor? I am going to ask you this when I summon you all," he added. .
When it comes to short term issues, especially with regard to tea industry, the Prime Minister said Sri Lanka would go into new markets.
"Commodity market is down throughout the world. It is so in the case of oil. Saudi Arabia is slashing the salaries including domestic worker salaries. Chinese steel makers are driving European and Western steel makers out of business. Therefore all the commodity prices are coming down," he said.
"It had also affected tea. We have other competitors whose prices have been more attractive than ours. Our focus has been in the Middle East and former Soviet Union (Russia and Ukraine). In 2002 we tried to push it more into Europe and to the other areas but it was not done.
"The Russian economy is coming under pressure by the West. Ukraine is in a mess. Middle East is coming apart -be it Libya, Syria or Iraq. Our main markets have got affected. We are trying to get new markets namely, Turkey. But there was some new issues. We are talking with Iran, after the US lifted the sanctions, and with Pakistan, India and China. The population of China requires more tea. Let us try and expand where the markets are," he said. (Yohan Perera)