---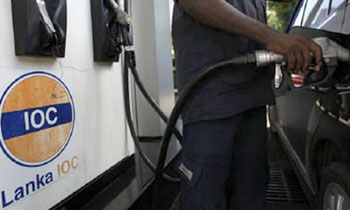 While welcoming the Government's decision to allow fuel prices to change in line with international prices, the Lanka IOC company increased fuel prices today.
Accordingly, the latest price of a litre of Lanka Auto Diesel is Rs.111, Xtra MILE is Rs.114, Lanka Super Diesel is Rs.119, Lanka Petrol (92) is Rs.137, Xtra Premium EURO 3 is Rs.143 and Xtra Premium 95 is Rs.151.
Issuing a statement, the company said the current revision in the prices of Auto fuel by the government will assist the oil companies to partially mitigate their losses on the sale of Petrol and Diesel.
"Even after the increase in Lanka Auto Diesel prices, LIOC will still have to bear an under-recovery of Rs.10/litre at prevailing international prices," it said.
Due to the sharp increase in the prices of Petrol and Diesel in the international market and steep depreciation of the rupee vis-à-vis the US dollar, it said oil companies were suffering huge losses.
"Although LIOC had increased the prices of Petrol and Diesel marginally with effect from March 24, the company was still suffering huge under-recoveries, as the price hike was only partially done. Implementation of a pricing formulae for Auto Fuel is a welcome step in the interest of the country," the statement said.