---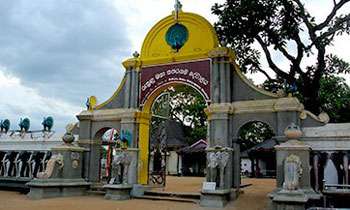 The government has taken a decision to bear the medical expenses of Kiriwehera Chief Incumbent Ven. Kobawaka Damminda Thera, who is receiving treatment at a private hospital after being shot by gunmen on Tuesday (12), Minister of Buddha Sasana Gamini Jayawickrama Perera said yesterday.
Minister Perera said the government would bear the cost of airlifting Venerable Damminda Thera to a private hospital in Colombo from the Hambantota Base Hospital for further medical treatment. It was reported that around Rs. 750, 000 had been spent to airlift the thera.
Damminda Thera and another monk were injured when three gunmen opened fire at The Kiriwehera Temple premises on Tuesday night.
Meanwhile, Police investigations revealed that the former Kapu Mahaththaya of the Mahasen Devalaya (Kiriwehera) Asela Lakshman Bandara was the main suspect in the shooting.
Police said eight police teams were investigating the incident under the direction of the Tangalle Division SP Laksiri Geethal. (Kalathma Jayawardhane)