---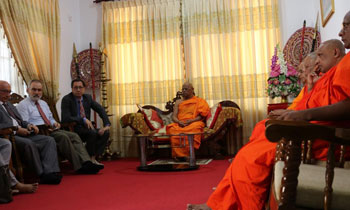 The recent violent incidents in Kandy district underscore the need to expedite efforts to support national reconciliation, a group of EU Ambassadors who visited the city said today.
The Ambassador of the European Union, Tung-Laï Margue, Romanian Ambassador Dr. Victor Chiujdea and Ambassador of Switzerland Heinz Walker-Nederkoorn visited Kandy from 27-28 March.
Addressing the media in Kandy, they said that Sri Lankans know all too well the consequences of not addressing religious and ethnic hatred.
They reiterated the importance of political, religious and community leaders taking the initiative to counter hate speech and racist stereotypes, a statement issued by the EU Embassy said.
The envoys also emphasised that there must be no impunity for such crimes.
The Ambassadors paid their respects to the Chief Prelate of the Asigiriya Chapter, the Most. Ven. Warakagoda Sri Gnanarathana Thera and the Chief Prelate of the Malwatte Chapter, the Most Venerable Thibbotuwawe Sri Siddhartha Sumangala Thera.
The envoys welcomed the upcoming meeting of a parliamentary committee, consisting of religious and political leaders from all communities, set up to discuss the issue. They also visited the Sri Dalada Maligawa.
The Ambassadors met representatives of the Muslim community to discuss the recent communal violence, and its aftermath. They expressed their sympathies for the loss of life and the destruction of homes, mosques, and businesses.