---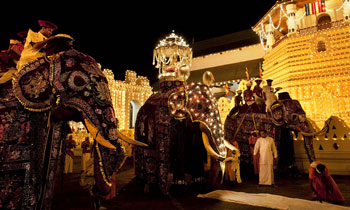 This year's Kandy Esala Perahera will be without its 'star' attractions -- the tuskers Nadungamuwe Raja, Wasana and Kelaniya Raja, while two other tuskers belonging to the Sri Dalada Maligawa would not taking apart in the perahera.
The Maligawa officials said 'Nadungamuwa Raja' and 'Wasana' were among the elephants at the Kataragama Perahera while 'Kelaniya Raja' would not be available for the Kandy Perahera beginning on July 29.
The Sri Dalada Maligawa spokesman said one of the eight tuskers -- 'Migara' would not be available during the Perahera season and therefore the organisers may have to manage with the remaining five tuskers. He said usually three elephants were required to carry the sacred relics casket, whereas only two other elephants would take part in the Perahera.
According to him, another tusker, a gift from former Myanmar President to President Maithripala Sirisena, is expected to arrive in the country soon. But it was doubtful whether it would arrive before the Perahera, as it takes time to be suffeciently trained.
Meanwhile the Basnayake Nilame for Natha Devale, Gayan Heenkenda said the four Devales participating in the Perahera were facing a similar issue without elephants. (L.B. Senaratne and Nadeeka Daya Bandara)