---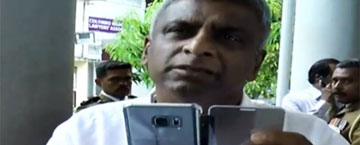 Sri Lanka Ports Authority (SLPA) Chairman Dhammika Ranatunga was released on bail by the Colombo Chief Magistrate Court today over the alleged incident of threatening a journalist at the Colombo High Court premises.
On March 17, Colombo Chief Magistrate Gihan Pilapitiya noticed Mr. Ranatunga to appear in Court following a B Report filed by Keselwatte Police over the alleged incident.
On March 16, Mr. Ranatunga arrived at the premises to attend the hearing for the bail application revision for his brother Nishantha Ranatunga and had allegedly threatened the journalists present, when they captured visuals of him entering the court.
The journalists, representing several media outlets, captured Ranatunga's threats on camera and later lodged a Police complaint at the Keselwatte Police.
Nishantha Ranatunga, former CSN Senior Executive, was remanded on charges of violating the Public Property Act.
While releasing the suspect, Dhammika Ranatunga, the Colombo Chief Magistrate told him that Court could understand how he worked at the Ports Authority if his behaviour in Court premises was such.
The Magistrate also asked the Keselwatte Police why they didn't record a statement from the suspect on his arrival to the Police after the complaint was lodged.
The Magistrate also questioned as to why the Police had provided special privileges to the suspect, since the suspect had arrived to the Police subsequent to the complaint in his private vehicle and had left without giving a statement over the incident.
However, the case was moved to the mediation and postponed to July 28. (Shehan Chamika Silva)
Video by Courts Prasanna