---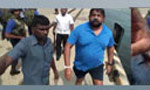 Journalist Dileep Roshan lodged a complaint at the Hambantota ASP's Office alleging that a fat person wearing a short trouser and a blue shirt scolded him in filth and assaulted him and he later identified the assailant as the Navy Commander.

He has also stated that he informed the media leaders about the matter and he made the complaint for his future protection.

He has also given a detailed description of the assault made on him by the Navy Commander.