---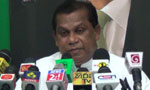 The Joint Opposition was breaking into splinters and slowly turning into a diluted group, Public Administration Minister Ranjith Madduma Bandara said today.
While addressing a media briefing, he said that the Joint Opposition members were trying to topple the Government by dashing coconuts.
"A Government cannot be toppled by dashing coconuts but it only can be done through an election," the Minister said.
"Yesterday, three ministers crossed over to the Government and they are appointed as Deputy Ministers and a State Minister.
"UNP MP Palitha Thewarapperuma, UPFA MP Manusha Nanayakkara and UPFA MP Lakshman Seneviratne crossed over yesterday and were appointed as Deputy Ministers and one as a State Minister. Many MPs have shown interest in joining the Government and discussions are underway," he added.
There were more than 160 ministers in the Government and the Government was strong and stable to run through the next five years, he said.
"The members in the Joint Opposition were not from the Sri Lankan Freedom Party (SLFP). Those MPs hang on to the party because they have nowhere to go," he said.
"The Joint Opposition MPs, who once laughed at the international organisations and to the international human rights organisations, had now gone to the Inter Parliament Union in Geneva with complaints.
"They went there wearing coats and trousers without wearing our national dress. They even have no courage to wear the national dress," he said. (Chaturanga Pradeep)
Video by Chaturanga Pradeep