---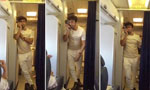 `Jet Airways has suspended the crew of a flight for letting Indian Singer Sonu Nigam, 42, use the public announcement system on a plane for an impromptu concert,Indian media reported today.
Passengers of a chartered flight were pleasantly surprised when Sonu Nigam gave an impromptu performance on the plane's address system recently.
The flight, however, didn't end well for the flight's crew after the Directorate General of Civil Aviation took a strict view of the performance and asked the airline to take action.
The regulatory body pushed the airline to ground the five flight attendants who allowed the concert to go on.
In a statement, Jet Airways said all cabin crew on the flight have been taken off from flight duty for enquiry and corrective training to reinforce strict adherence to operating procedure. It also added that the flight announcement system was allegedly "misused" wherein singer Sonu Nigam was allowed to sing from the plane's address system.
The in-flight concert allegedly took place on a flight from Jodhpur to Mumbai on January 4. According to reports, the passengers aboard the flight were returning from a wedding and knew each other. They requested Nigam to croon some of his hits and the singer obliged.
He sang two songs — Do pal ruka from Yash Raj Films' Veer Zaara and Panchhi nadiya from Abhishek Bachchan's Refugee – on the flight's address system.
When he noticed that plane passengers were also singing along, he said, "Arrey wah, aap bhi gaatein hain. My God, saare singers hain." Some of the passengers made videos which found their way to Facebook and went viral.
This was not the first incident of this kind. As a part of Holi celebrations in 2014, the cabin crew of SpiceJet broke into a dance sequence mid-air to the tune of Balam Pichkari. This act led to the suspension of two pilots and DGCA issuing show cause notice to the airline.