---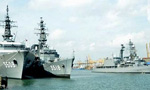 The Japanese government has decided to provide a naval craft and training to Sri Lanka in the future to strengthen its maritime security, Japanese vice Minister of Defence Hiroyuki Miyazawa said.
The defence ministry said in a statement that the visiting Japanese minister revealed this during the Japan-Sri Lanka Defence Cooperation Dialogue 2016 held at the defence ministry in Colombo. The Sri Lankan delegation was led by State Minister of Defence Ruwan Wijewardene. Secretary to the Ministry of Defence Eng. Karunasena Hettiarachchi, Chief of Defence Staff and three forces commanders attended at the discussion.

Both parties discussed issues related to bilateral defence matters including regional situation, defence policy and defence cooperation and exchanges.
Mr. Miyazawa said that Japan would extend its fullest support to boost defence cooperation between both countries and to strengthen maritime security of Sri Lanka.
State Minister Wijewardene stated that the visit of the Japanese Vice Minister and the Japanese delegation to Sri Lanka will further strengthen bilateral defence ties between the two nations. He also said that he values the long term support provided by Japan to our defence establishments and maritime security. He also expressed his gratitude for the support extended by Japan to the development of the Sri Lanka Coastguard Department, the ministry added.