---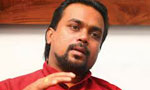 The government, which should be empowering the Tamil community, is instead allowing Tamil extremism to raise its head in the country, the joint opposition charged yesterday.
Referring to the Jaffna University clash which took place on Saturday, JO member and UPFA MP Wimal Weerawansa said the clash was a result of government's negligence.
"The previous government continued the railway track to the North, renovated schools and implemented other projects to uplift the livelihood of the Tamil people. It seems we don't even have the reconciliation which we had before January 9, 2015," he told a media conference held in Colombo.
Commenting further on the university clash, he said it had started among two groups of students but later on a group of outsiders had entered the university and launched a 'selective' attack on Sinhala students making them leave the premises.
Meanwhile, MP Udaya Gammanpila charged the media, NGOs and western countries which were vocal over the incidents of students clashes in the southern universities were keeping mum over the Jaffna University clash. "Regardless of the faction, an offence should be considered as an offence," he said. (Lahiru Pothmulla)
Video by Sanjeewa