---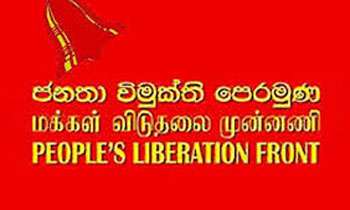 The Janatha Vimukthi Peramuna (JVP) today requested the Auditor General in writing to suspend all payments made to House Leaders, the Opposition Leaders the Chief Government Whips and the Chief Opposition Whips at provincial councils including the Western Provincial Council on the basis that they were illegal posts.
The letter signed by a group of JVP provincial councillors including Lakshman Nipunaarachchi, Sunil Watagala, Wasantha Samarasinghe, Nandana Pathmakumara and Sarath Pathirana handed over to the AG said only the Chairman and the Deputy Chairman were acceptable under the Constitution and the Provincial Councils Act.
They said neither the Constitution nor the Provincial Councils Act had provisions to maintain these posts in the Provincial Councils and asked the AG on what basis were the payments and privileges audited.
Mr. Nipunaarachchi said millions of public funds were spent to provide vehicles, staff and office space for these illegal posts.
"We protested against this move at provincial council meetings. If these positions have been there for a long time as claimed by some, we have no objection for keeping those positions traditionally but we are against spending public funds to maintain them," he said.
Mr. Nipunaarachchi said they requested the AG to conduct an audit on the public funds spent so far and take action to recover the funds while suspending the funds on these illegal posts. (By Ajith Siriwardana)