---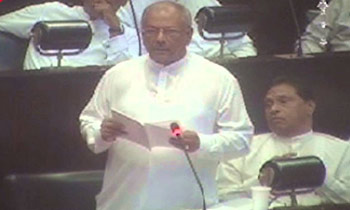 The Joint Opposition (JO) had requested for a debate in Parliament on April 6 to go through the content of the UNHRC Resolution, the Daily Mirror learns.
The JO earlier claimed that the UN Human Rights Council (UNHRC) resolution which was passed without a vote in Geneva last week was detrimental to the sovereignty of the country.
JO leader MP Dinesh Gunawardena said the approval had been granted for the debate based on a request they made during the Party Leaders' Meeting held in Parliament on Friday.
Addressing the weekly news briefing of the JO, the MP said the incumbent Government had gone ahead with the resolution placing the Government's interest at first, unlike previous Government, which thought about the country first.
"Some of the resolution recommendations violate the Constitution. Especially the sixth clause which recommends foreign judges and prosecutors in an accountability mechanism is a clear violation of the Constitution. Though Prime Minister has said that there was no room for foreign judges in a domestic mechanism, the Tamil National Alliance (TNA) keep pushing for a new Constitution to make room for foreign judges," he said.
He said Foreign Minister Mangala Samaraweera had violated the Constitution by agreeing to the Clause 6 and requesting only for a two-year extension to implement all recommendations without amending the 6th Clause.
However, Foreign Minister Samaraweera on Tuesday said neither the Government nor the international community was obsessed with the inclusion of foreign judges in a domestic mechanism to probe into war crime charges.
He said the Government's main concern was to create a fair, independent and credible judicial mechanism. (Lahiru Pothmulla)