---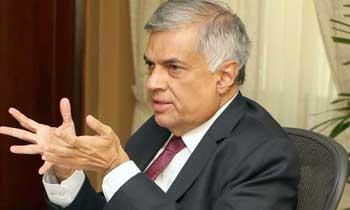 Time had come for the legal sector and the Government to think whether it was possible to regulate social media such as Facebook, Prime Minister Ranil Wickremesinghe said on Saturday.
The Prime Minister came up with this statement at the 28th Law Asia Conference in Colombo over the weekend.
"Modern technology society has changed the issues which the legal sector in particular is facing. For example consider the internet, Facebook. If you regulate Face Book and the internet is it a violation of Fundamental Rights?
"Many foreign governments are tackling it especially in the social sector and child welfare. These are the issues which we have to tackle. These are new issues which we have not even thought of," he said.
The Premier said there were three areas which the Government and the law experts would have to discuss.
"First is the ease of doing business, the Ministry of National Policies and International Trade and Ministry of Finance coming up with a plan for it and we will send it across to you and you place your views, you know the problems. It is the same with the trade reforms. Then we need to focus on off shore financial city," he added.
"How are we going to be creative? We are going to talk with China Harbour and with a Reserve Bank of India. That matter needs consultation with both from the Bar Association of Sri Lanka (BASL) and the bench. You cannot bring about changes in a controversy but in a consensus background. Let's start working on this. What are the commonalities with principals and changes which economic and legal sectors should work together? We are willing to work with you," he told the members of BASL and Law Asia.
"We are hoping for free trade agreements with India, China and Singapore and with other Asian countries which means in no way that will take domestic industries a risk. In the next ten to 15 years we have to become competitive. Now the modernisation will have to take place and we are concentrating on trade agreement with India and we must work with the five Southern states," the premier stated.
"We have a combined GDP of $ 600 billion, if we work together getting a trillion dollar GDP for the five states and us it will be possible. We should think out of the box. Now within it, we need new laws, we have to draft the laws, we have to talk to the BASL on new systems" he added. .
"What Sri Lanka wants to become is the hub of the Indian Ocean, to become hub of logistics and communication. This requires modernisation," he added.
He said the foreign exchange Bill would be debated in Parliament this week. (Yohan Perera)