---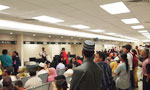 Indonesian Embassy in Sri Lanka announced on Wednesday that the Indonesian Government had enabled visa-free facility to Sri Lankan citizens with regular, official and diplomatic passports.
Sri Lanka is among 169 countries to which Indonesia had allowed visa-free facility according to the Presidential Regulation No. 21 of 2016 concerning Visit Visa Exemption on March 2, 2016. It was signed by President Joko Widodo.
"The visa exemption facility can be used for tourism, family visit, social visit, art and cultural, government duty, to deliver a speech or attend a seminar, international exhibition, meetings with head office or representative offices in Indonesia, or transit excluding journalistic visits," the embassy said in a communique.
It said visitors can enter and exit Indonesian territory through 124 immigration checkpoints in airports, seaports and land border.
The requirement that should be fulfilled are a passport valid for a minimum of six months as from the date of entry into Indonesia and compulsory onward or return tickets. Visitors will be granted a non extendable 30-day visa-free short visit permit upon arrival.
Meanwhile, Indonesian Law and Human Rights Ministry said visitors can still apply for visa on arrival (given for 30 days and extendable for another 30 days) or visit visa, if the 30 days of visit visa exemption facility feels insufficient. (Lahiru Pothmulla)