---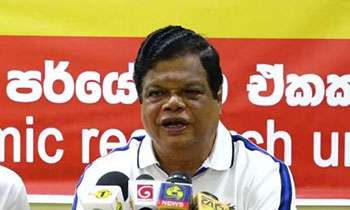 Prices of some imported goods including petroleum products, fertilizer, gas and chemicals would rise further because of the depreciation of the rupee, MP Bandula Gunawardana said today.
He told a news conference that the government's mismanagement of the economy had resulted in plunging the country's into the doldrums.
"Prices of imported goods are linked to World Market prices. As the value of the Sri Lankan rupee has depreciated to Rs.158 against the US dollar, the prices of certain goods including essential items like rice, flour, sugar, dhal and dried fish will increase," the MP said.
He said it was difficult for the government to overcome the prevailing economic instability due to the current political crisis, and as such the government should immediately go for a parliamentary election and hand over the country to a party capable of governing the country effeciently.
Meanwhile, he said the joint opposition would support the proposal of the the Janatha Vimukthi Peramuna (JVP) to abolish the executive presidency, only if Parliament would be dissolved on the day this proposal is passed. (Sheain Fernandopulle)