---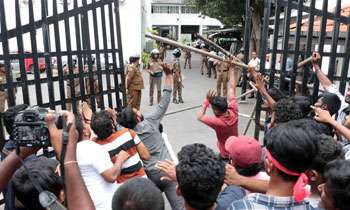 University students led by the Inter University Students Federation (IUSF) today forced into the University Grants Commission (UGC) at Ward Place in Colombo breaking its front gate.
They marched to the UGC in a protest march which started in front of the Fort Railway Station demanding authorities to resolve several issues pertaining to University students in the South Eastern and Rajarata Universities.
The protest march reached the UGC around 3 p.m. and by 3.30 p.m. the gate was broken down by angry protesters.A Police officer sustained injuries when the students attempted to break the gate.
Police Riot Control Unit, including four water cannon trucks, were at the scene to control the situation.
The protesters who entered the UGC premises, however, did not enter the building, but were shouting slogans demanding to lift the suspension given to several students attached to the Rajarata University.
The employees of the UGC were evacuated by the time the protesters reached the premises.
The students showed their displeasure to the Higher Education Minister Wijeyadasa Rajapakshe stating that he had not taken sufficient measures to resolve their issues.
"Tear gas, water cannon or any other force was not used to disperse the protesters and the protesters did not show any violent behaviour," a Police Spokesman said.
Speaking to the media IUSF Convener Lahiru Weerasekara said the Police didn't receive any order to attack them.
He said that IUSF didn't care of who was the country's President, Prime Minister or who would be next but the students' issues should be resolved under any administration.
"The agendas of Mahinda, Ranil or Maithri is the same. They have to send one letter to resolve all these matters if they really want to solve the problem.
"Because the Vice Chancellors of all these Universities are their henchmen it can be done easily. What we should understand is that all these leaders doing nothing, even they had enough authority to do so," he said. (Thilanka Kanakarathna)
Video by Buddhi